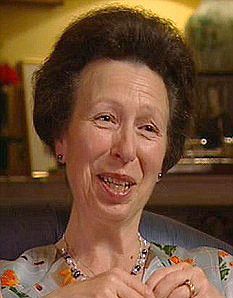 Princess Anne – only daughter of the Queen, mother to Zara and Peter Philips, former European Eventing champion, charity patron and a pillar of the British monarchy. What most people don't know is that she has another side to her; one that loves to dance and is not adverse to using underhand tactics to give her son's rugby team a winning edge. In celebration of her milestone 60th birthday on August 15, the Princess Royal has given a special interview to the BBC in which she - and her two children - share revealing insights into her life. It is the first time that Peter – whose wife Autumn is soon to make Anne a grandmother – and Zara have given a joint interview. In one anecdote, brother and sister recall how their mother apparently let one of her dogs loose during a local rugby match to 'tactically' help Peter's team win. And, according to her son, she jumped up and down screaming "start, start" when Zara didn't hear the bell at the Eventing World Championships in 2006 – Zara went on to win and was crowned Sports Personality of the Year, 35 years after her mum achieved the same feat. "I look at her and just think if I was going to be a mother, that's what I would want to be like," says Anne's proud 29-year-old daughter. "I would like to be as good a mother as she has been to us."
"Her advice generally about life has been invaluable," adds Peter – Anne chose to give neither child a title. "Whenever we may have got slightly above our station she'd be the first one to bring us back down to earth."
"When she's in an environment of people that she knows, whether it be her organisations or family, friends, she definitely relaxes a lot more and is great fun and is always the one laughing the loudest."
"She loves a good dance," adds Zara. "She is good on her feet." As for the princess, who will spend her birthday on Sunday with husband Vice-Admiral Tim Laurence, she says turning 60 and becoming a grandmother in December, doesn't mean she is going to slow down. "Look at the members of my family who are considerably older than me and tell me whether you think they have set an example which suggests that I might," she says. "Unlikely."