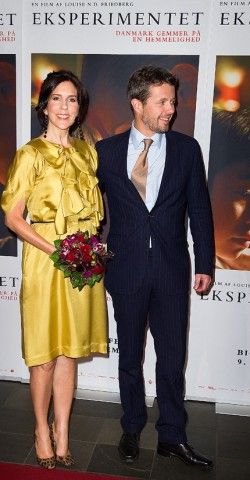 I love them, but let's be honest, they are not the most affectionate couple in public. But after six years of marriage, Crown Prince Frederik and Crown Princess Mary still need to have their date nights on their own.
Little Christian and Isabella were at home when they attended the theatrical release of the movie "Eksperimentet" on Tuesday afternoon.
Rumor has it that Frederik was feeling quite protective towards his wife and her pregnant belly as it starts showing a bit more then in the past few weeks.
As usual, Mary was radiantly beautiful that evening in a shimmering yellow silk dress.
Prospective twin father Crown Prince Frederik who wore a dark blue pinstriped suit and had always (and proudly) a attentive hand on Mary's back.